WPC pillar extrusion line.mp4
3 year ago
Pipe or Profile extrusion is extrusion of a shaped product that can be a variety of configurations but does not include sheet or film products. Profile extrusion can include solid forms as well as hollow forms. Products ranging from tubing to window frames to vehicle door seals are manufactured this way and considered profile extrusion.
To process hollow shapes a pin or mandrel is utilized inside the die to form the hollow sections. Multiple hollow sections require multiple pins. To create these hollows a source of air is required to allow the center of the product to maintain shape and not collapse in a vacuum. Usually an air source will be utilized to keep the correct airflow in the cavity.
Wood Filled Plastics
Wood-plastic composites (WPCs) are composite materials made of wood fiber/wood flour and thermoplastic(s) (includes PE,PP, PVC etc.).
Chemical additives seem practically "invisible"  in the composite structure. They provide for integration of polymer and wood flour (powder) while facilitating optimal processing conditions.
In addition to wood fiber and plastic, WPCs can also contain other ligno-cellulosic and/or inorganic filler materials. WPCs are a subset of a larger category of materials called natural fiber plastic composites (NFPCs), which may contain nocellulose-based fiber fillers such as pulp fibers, peanut hulls, bamboo, straw, digestate, etc.
Wide Range of Applications
Wood plastic composites can successfully replace pure natural products thanks to their longer life and other beneficial properties. Such as decking and fencing elements, roofing ,trellises and door-frame profiles, picnic tables, benches .landscape timber, patios,gazebos and walkways, playground equipment.
Main Features Of Extrusion Line:
l  Extruder adopts WPCd dedeciated screw, make sure best plastisizing effect, furhter make sure best final product shape
l  Extruder speed and haul off speed controlled by ABB frequency inverter, saving power and easy adjusting speed
l  Extruder temperature adopt PID control, temperature fluctuation self adjusting, it realise the high automatic level
l  Equipped with infrared tracking device which can elimintate the problem of fluctuation of extrusion flow rate, further can make sure get best product
l  Lower power consumption, it can save 25-30% electrical power consumption comparing with most same kind PVC ceiling extruder.
l  Economical price, suitable for large scale investment.
Technical Parameter:
Product Width(mm)

200

240

300

600

900

1200

Extruder

SJZ55/110M

SJZ65/132M

SJZ80/156M

SJZ92/188M

Motor Power(kw)

22

37

55

110

Vacuum Pump(kw)

4X1

5.5X1

5.5X1

5.5X2

5.5X1

7.5X1

5.5X1

7.5X1

Water Pump (kw)

2.2

2.2

4

5.5

7.5

7.5

Capacity(kg/h)

70

100

110

180

300

400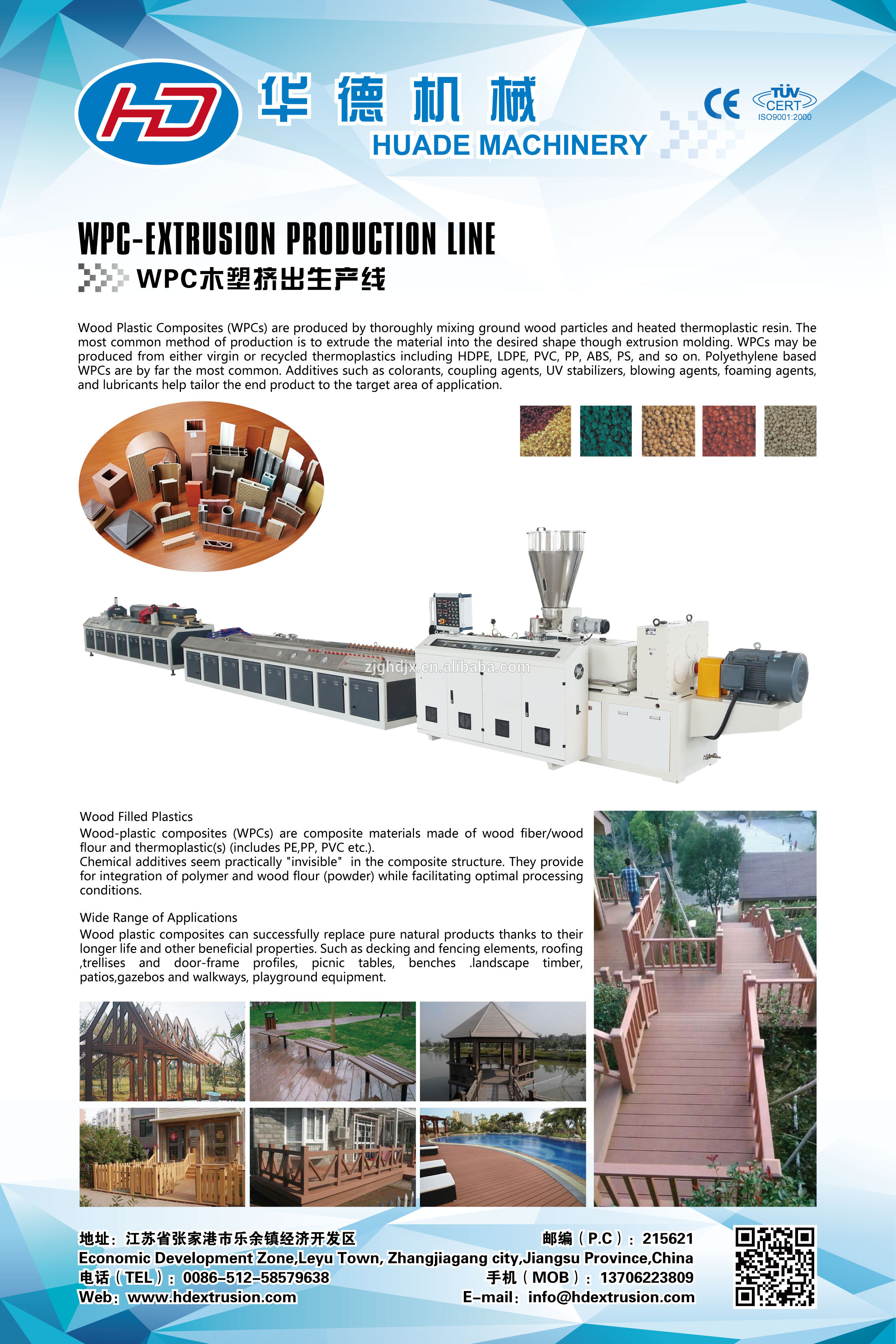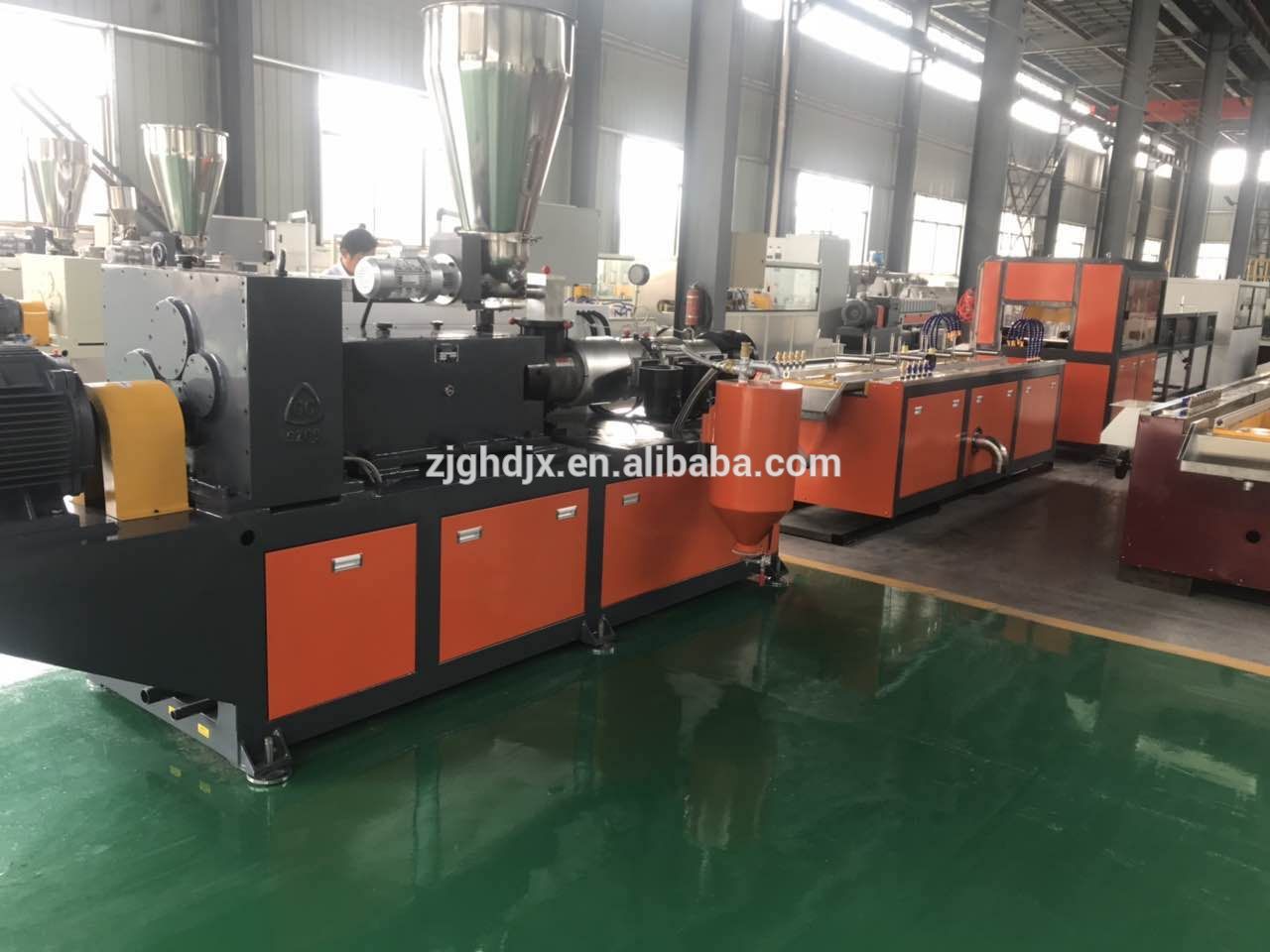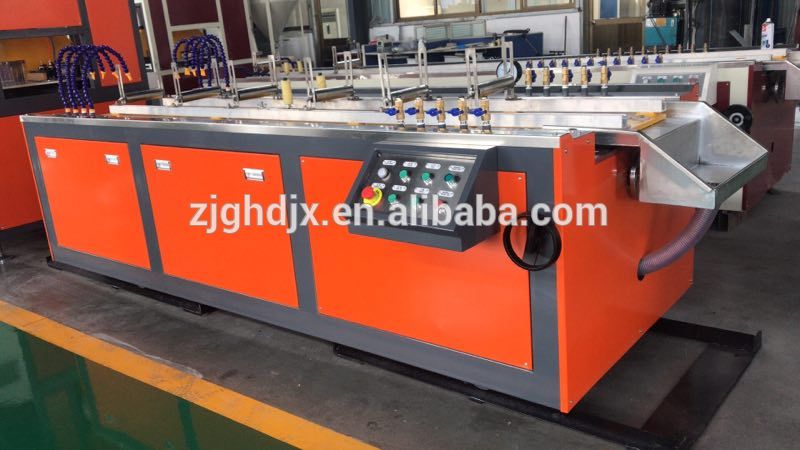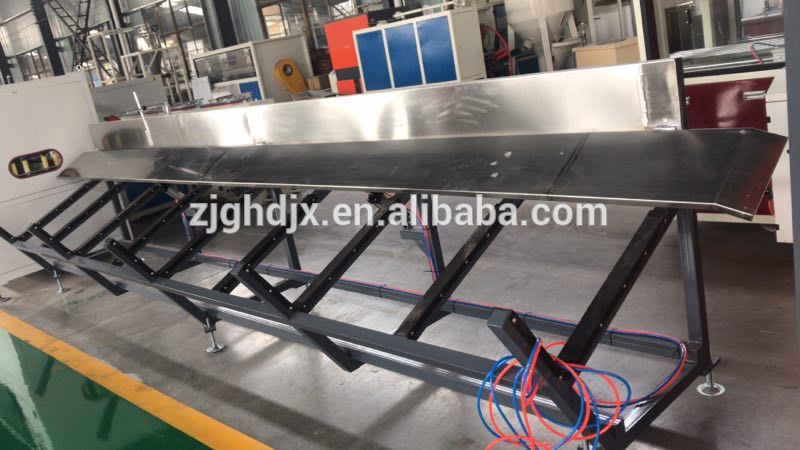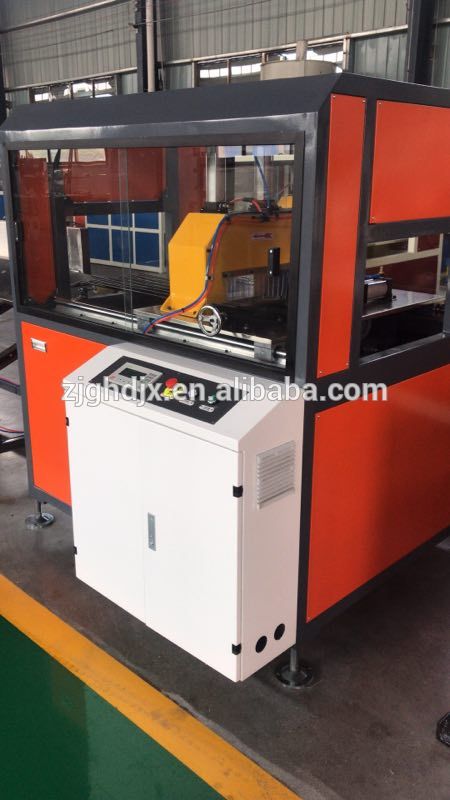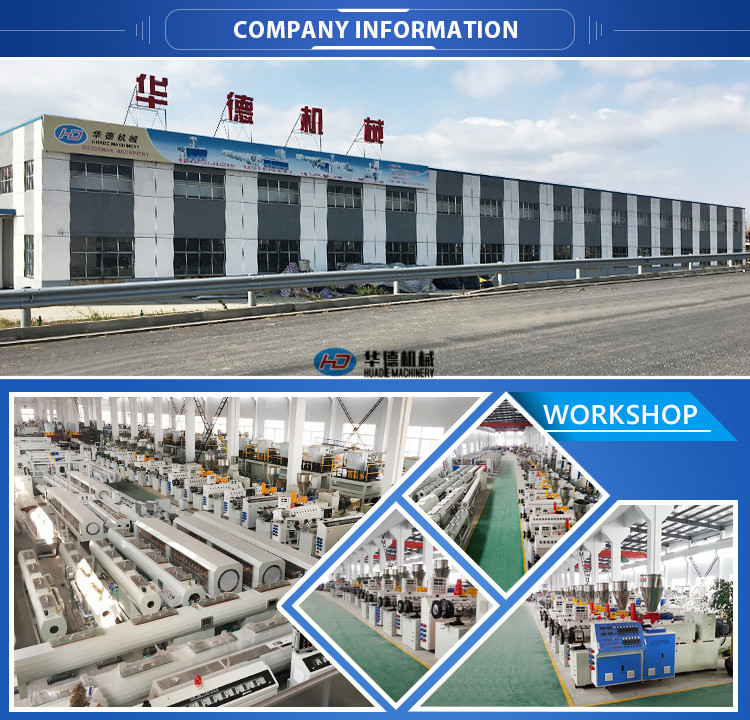 Zhangjiagang Huade Machinery was founded in 2006,which is a professional manufacturer and supplier of plastic extrusion equipment for a wide range of applications as following:
• PVC Φ16mm-Φ800mm Pipe Extrusion Line
• HDPE Φ16mm-Φ1200mm Pipe Extrusion Line
•PPRΦ16mm-Φ160mm Pipe Extrusion Line
• PVC/WPC Profile Extrusion Line
• PVC/WPC Door/Wall Panel Extrusion Line
• PVC/WPC Foam Board Extrusion Line
• PVC Marble Sheet Extrusion Line
• PVC Roof Sheet Extrusion Line
• PVC/WPC Granulation Line
• PP/PE Waste Film / Bottle Recycling Line
All our efforts and persistence lie in developing trust & respect and keeping transparency in all our business dealings to achieve 100% customer satisfaction with high quality and reasonable price machines, providing the technical support and technical personnel training.
Huade machinery constantly upgrades quality management system as per the latest and advanced specifications ,follows all the norms concerning quality management and environmental preservation laid-down by local/international legislative demands for the benefit of the society at large
With its rich expertise and familiarity in plastic industry, we provide our customers with mechanical engineering and production at the highest quality level. We have clients worldwide including Egypt, Malaysia, India, Iran, Brazil, Czech, Turkey, Jordan, Bangladesh, South Africa and more.
Welcome to visit us and establish mutual business cooperation in near future.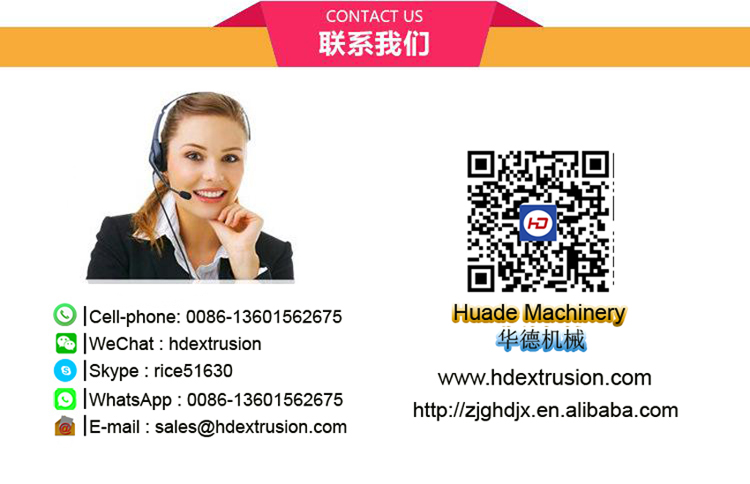 Similar Video Recommendation
Bossgoovideo.com Contact Now
If you are interested in the product, contact Bossgoovideo.com for more information
*To:

Zhangjiagang Huade Machinery Technology Co.,Ltd
*Message:
Submit
 Disclaimer :
The information of Bossgoovideo.com limited shown above is provided by the user or collected on the network. Video 2B does not guarantee the authenticity,accuracy and legitimacy of Bossgoovideo.com limited information. Video 2B does not involve legal relationships and disputes between users arising from transactions other than secured transactions on this website. Disputes shall be settled by you through negotiation. If you are the person in charge or relevant employee of this enterprise, if you find that the enterprise information is incorrect or want to manage thiscompany, please contact us jacklee1558@gmail.com, after you claim the enterprise, you can obtain management permission, publish supplyand demand information, bring consulting orders, and remove page advertisements.