50-250PVC给水管或者PVC排水管生产线都可以.mp4
4 year ago
Diameter Range (mm): 63 75 90 110 140 160 200 wall thickness by request
Main Extruder Motor Power: 37kw
Line Space Occupation: 28mx4mx3m
Capacity: 150-3250kg/h
Product Description
Application of PVC,UPVC Wall Pipe extrusion production line / UPVC pipe making machine:
Applied for manufacture of caliber PVC,UPVC water supply and drain pipes,electric conduit pipe, etc
Working flow of PVC,UPVC Wall Pipe extrusion production line / UPVC pipe making machine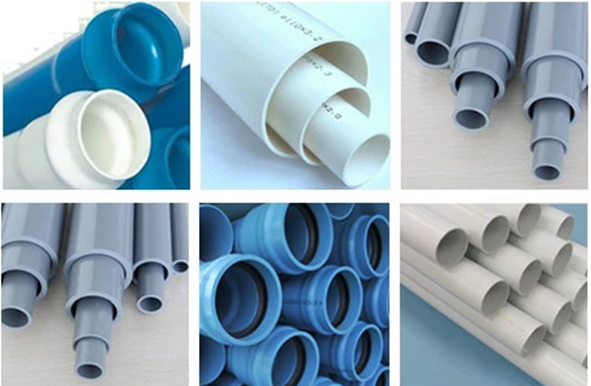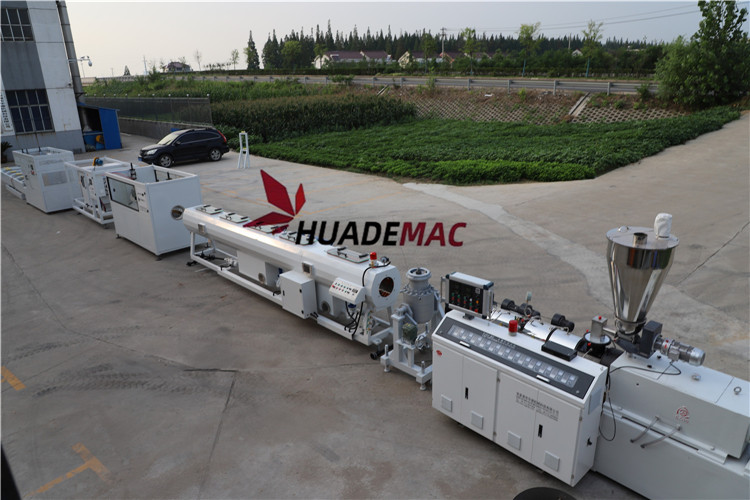 Pipe or Profile extrusion is extrusion of a shaped product that can be a variety of configurations but does not include sheet or
film products. Profile extrusion can include solid forms as well as hollow forms. Products ranging from tubing to window frames to
vehicle door seals are manufactured this way and considered profile extrusion.
To process hollow shapes a pin or mandrel is utilized inside the die to form the hollow sections. Multiple hollow sections require
multiple pins. To create these hollows a source of air is required to allow the center of the product to maintain shape and not
collapse in a vacuum. Usually an air source will be utilized to keep the correct airflow in the cavity.
Details Images
SJZ65/132 twin screw extruder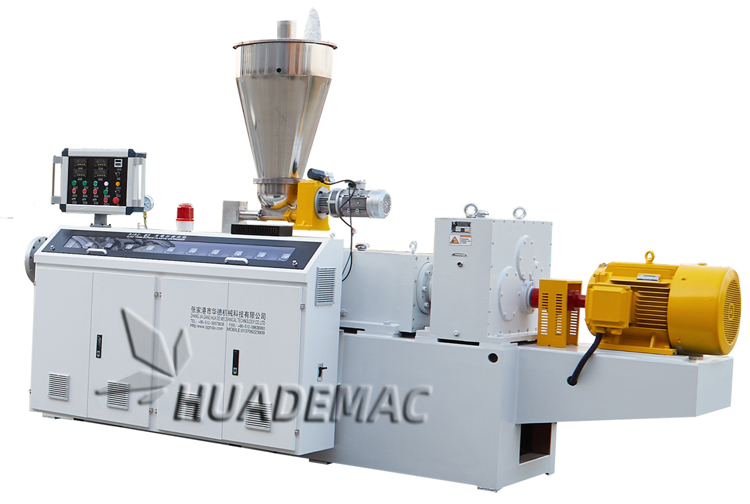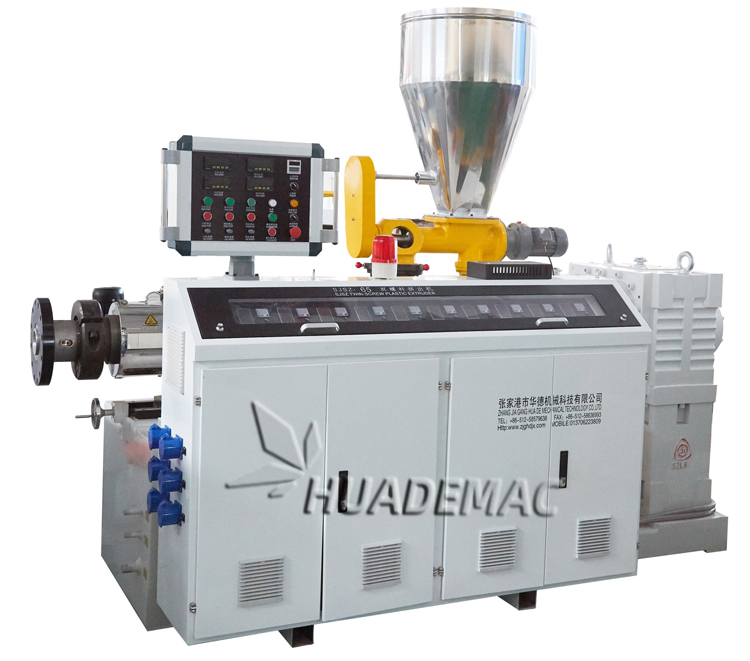 Conical twin screw extruder or parallel twin screw extruder can be applied to produce PVC pipe.With latest technology, to lower power and ensure capacity. According to different formula, we provide different screw design to ensure good plasticizing effect and high capacity.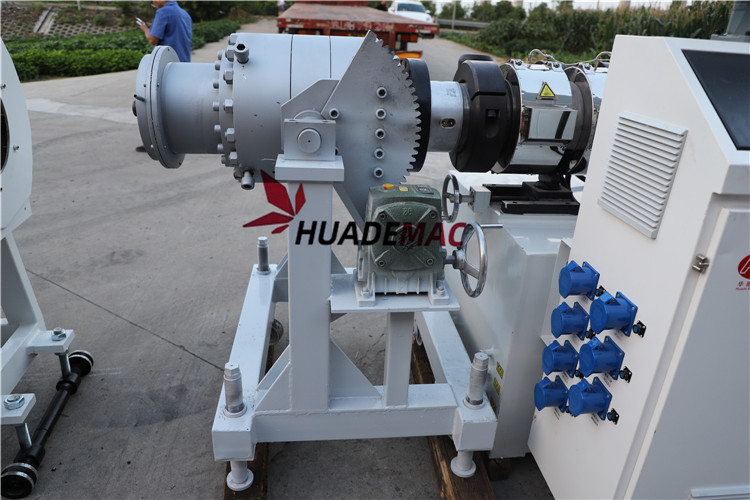 Extrusion die head apply bracket structure, each material flow channel is placed evenly.
Each channel after heat treatment, mirror polishing and chroming to ensure material flow smoothly.
Die head is modular design,easy for changing pipe sizes, assembling, dismantle and maintenance.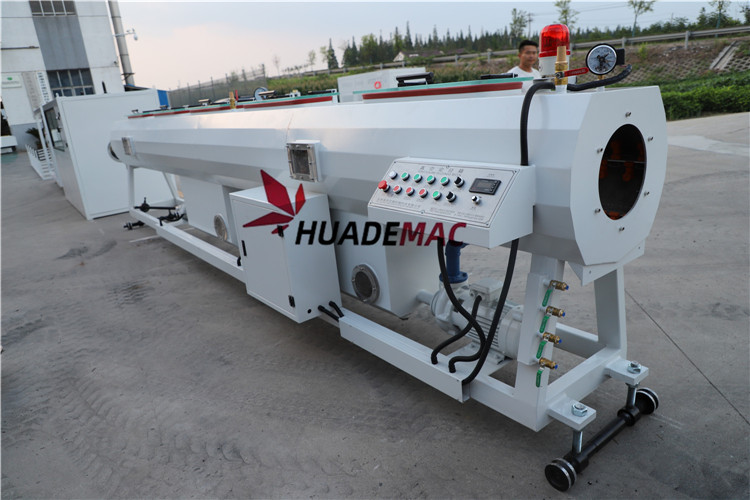 Vacuum calibration tank is used to shape and cool pipe, so as to reach standard pipe size.
We use double-chamberstructure.First chamber in short length, to ensure very strong cooling and vacuum function.
As calibrator is placed in the front of first chamber and pipe shape is formed mainly by calibrator, this design can ensure quick and better
forming and coolingof pipe.
3 Caterpillar Haul off unit provides sufficient traction force to pull pipe stably.
According to different pipe sizes and thickness,our company will customize traction speed, number of claws, effective traction length.
To ensure matchpipe extrusion speed and forming speed, also avoid deformation of pipe during traction.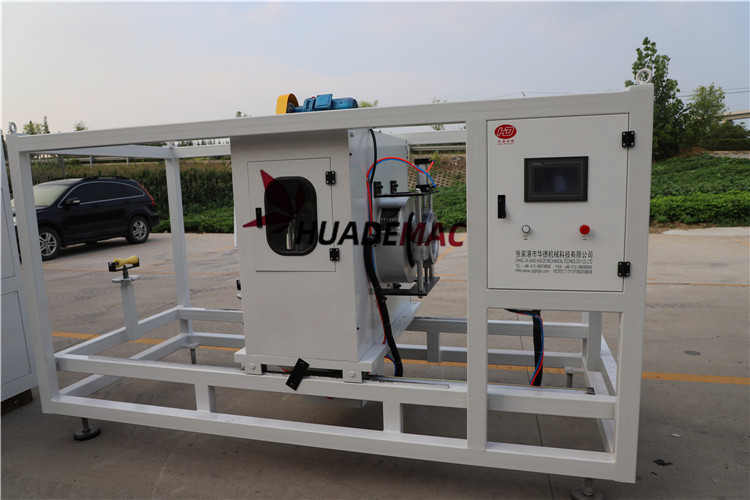 Planetary Cutter controlled by Siemens PLC, working together with haul off unit to have precise cutting.
Customer can set the length of pipe they want to cut.Multi-feed-in actions for the accomplishment of one cutting process
(protect blades and saws, prevent from blade and saws stuck for thick pipe and cut face of pipe is smooth).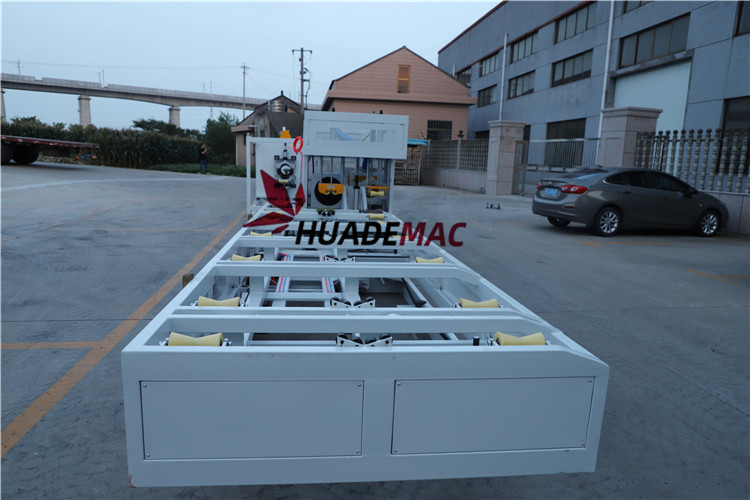 PVC on-line belling machine to make socket at pipe end which is easy for pipe connection.
There are three types of belling type: U type, R type and Square type.
We provide belling machine which can finish belling of pipe on
line fully automatic.From min size 16mm to max size 800mm, can with multi heating oven and belling station.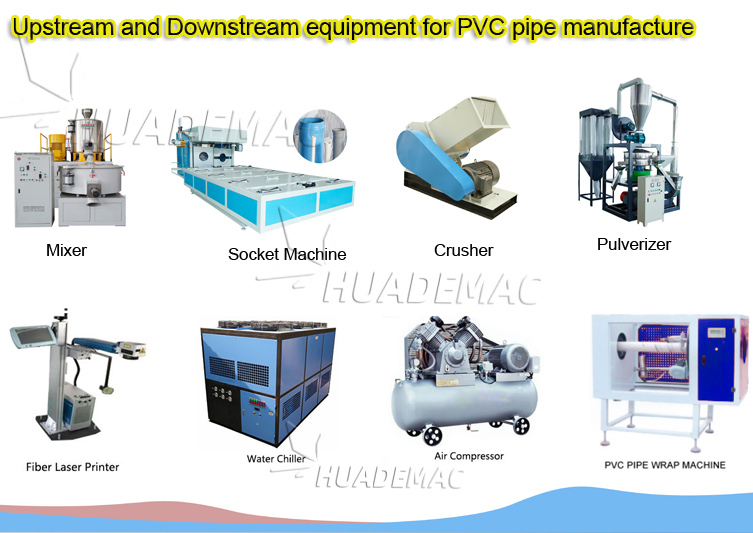 Company Profile 75-250mm PVC 1 strand pipe extrusion line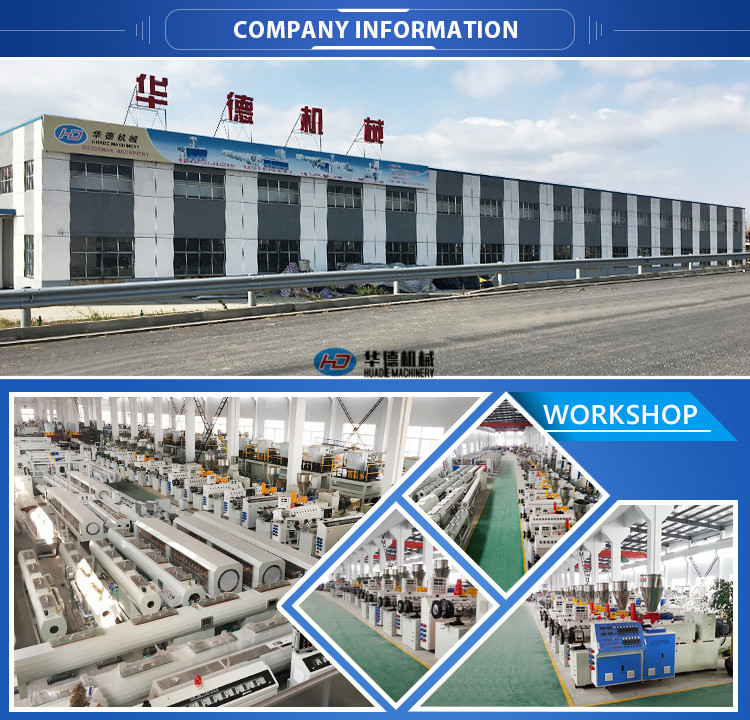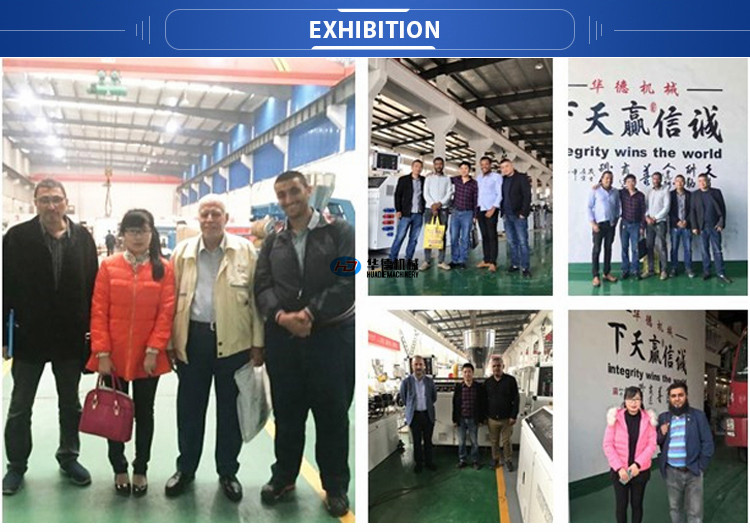 Product packaging of PVC 2 cavity production line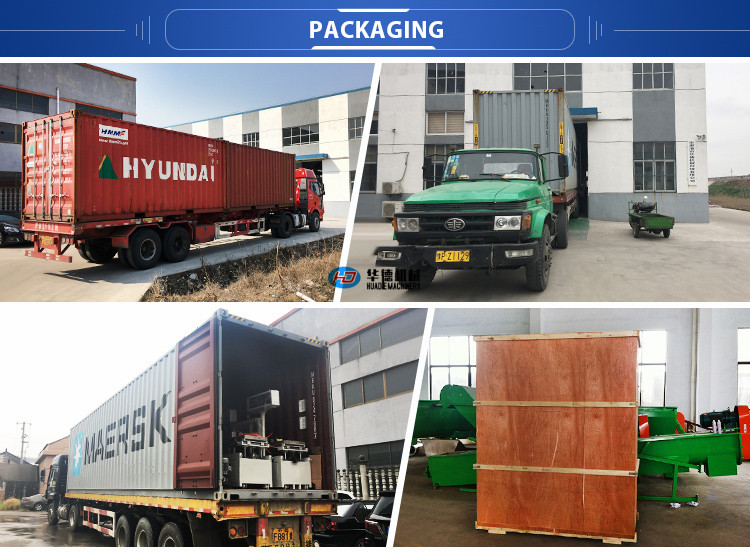 Similar Video Recommendation
Bossgoovideo.com Contact Now
If you are interested in the product, contact Bossgoovideo.com for more information
*To:

Zhangjiagang Huade Machinery Technology Co.,Ltd
*Message:
Submit
 Disclaimer :
The information of Bossgoovideo.com limited shown above is provided by the user or collected on the network. Video 2B does not guarantee the authenticity,accuracy and legitimacy of Bossgoovideo.com limited information. Video 2B does not involve legal relationships and disputes between users arising from transactions other than secured transactions on this website. Disputes shall be settled by you through negotiation. If you are the person in charge or relevant employee of this enterprise, if you find that the enterprise information is incorrect or want to manage thiscompany, please contact us jacklee1558@gmail.com, after you claim the enterprise, you can obtain management permission, publish supplyand demand information, bring consulting orders, and remove page advertisements.