Semi Double Scale Weight Packing Machine.mp4
3 year ago
Brief Introduction:
Electronic quantitative packaging scale is a combination of mechanical and electronic products. Equipped with three-stage pneumatic chute type dead-weight blanking device, suitable for granule packing machine, such as: rice, white sugar, feed, plastic particles, etc. It can form semi automatic packing machine line with belt conveyor and stitching machine.
Features:
• Matching high precision sensor with high intelligent meter.
• Software self-adpapting, error automatically amended, more/less alarming, trouble self-inspected functions, etc.
• Number and quantity of package automatical counting, printing and data communication functions.
• Widely range of quantitative and high precision and matching with a bag-sewing machine which has multi-function and high effective can be provided.
• Adopting imported pneumatic organ which is reliable, easy to maintainence and non-polluted.
• The part touching with materials adopting stainless steel which is safe and sanitary and not easy to eroded. So the equipment has a long life.
Application:
Quantitative Semi Solid Filling Machine for granule matter in industries of food, feed and chemical, etc.
Semi Automatic Packing and Weighing Machine Detailed description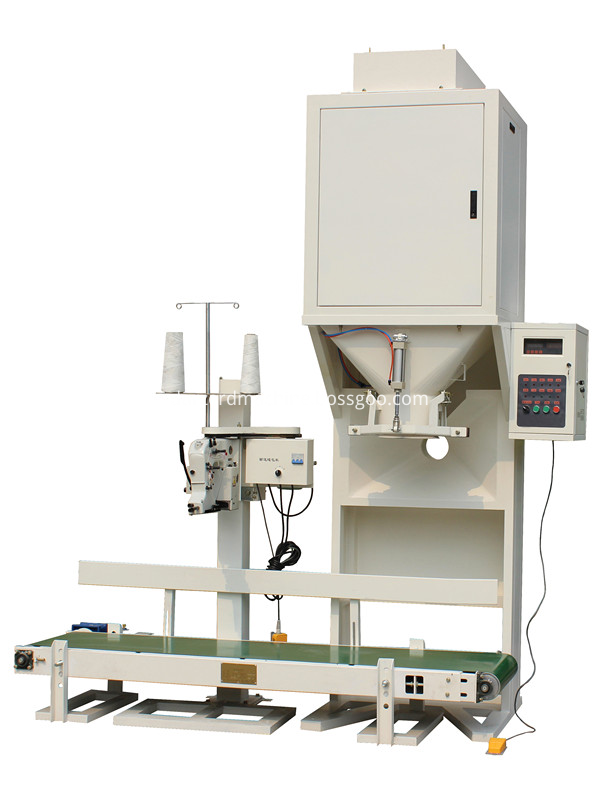 Sample bag type:

Technical Parameters
Model

ZD-10

ZD-25

ZD-50

Rated Packing Weight(kg)

1-10

10-25

10-50

Division Value(g)

2

5

10

Packing Accuracy

X(0.2)

X(0.1)

X(0.1)

Packing Speed(bag/h)

300-420

300-600

300-420

Power

AC220 150W

Air Compressor

Compressed Air0.4-0.8MPa 1m³/h
Similar Video Recommendation
Bossgoovideo.com Contact Now
If you are interested in the product, contact Bossgoovideo.com for more information
*To:

DURZERD PACKAGING MACHINERY CO., LTD.
*Message:
Submit
 Disclaimer :
The information of Bossgoovideo.com limited shown above is provided by the user or collected on the network. Video 2B does not guarantee the authenticity,accuracy and legitimacy of Bossgoovideo.com limited information. Video 2B does not involve legal relationships and disputes between users arising from transactions other than secured transactions on this website. Disputes shall be settled by you through negotiation. If you are the person in charge or relevant employee of this enterprise, if you find that the enterprise information is incorrect or want to manage thiscompany, please contact us jacklee1558@gmail.com, after you claim the enterprise, you can obtain management permission, publish supplyand demand information, bring consulting orders, and remove page advertisements.
Suppliers
DURZERD PACKAGING MACHINERY CO., LTD.
1 min

Main Product: Vertical Form Fill Seal Machine, Pouch Packing Machine, Sachets Packing Machine, Robot Palletizer Line, Secondary Packaging Machine, Auto Bagging Machine