New Design Irregular Tile
2 year ago
Information:
This is a arabesque shape glass mosaics made of glass material and the whole brick size of 270*270mm. The whole brick is embedded with a few small bright green chips, which adds a bit of activity.It is especially suitable for the decoration of the shower room glass mosaic for tile wall. The green pattern of this Mosaic brick makes it look like emerald, can make the Mosaic artistic wall brick of the bathroom beautiful atmosphere. Therefore, this arabesque shape glass mosaics is suitable for the wall decoration of the shower room.In addition, they can be installed on walls, ceilings, floors, etc.For example: the setting wall glass Mosaic of the sitting room, and the glass Mosaic of the bedroom. Of course, you can also use your own creativity to install them where you like. From├─Arabesque Shape Glass Mosaics
This malachite green glass mosaic tile has the following advantages.
1) Glass mosaics are dirt resistant and easy to install and clean.
2) The water absorption rate is zero, it is not easy to break in the damp place, the bathroom is very suitable.
3) Malachite green glass Mosaic wall as inlaid with jade, beautiful art.
4) Glass mosaics are smooth and smooth, with seamless edges.
5) Resist fading and chemical erosion, resist acid and alkali, and don't worry about fading.

This is a detailed picture of the glass Mosaic product.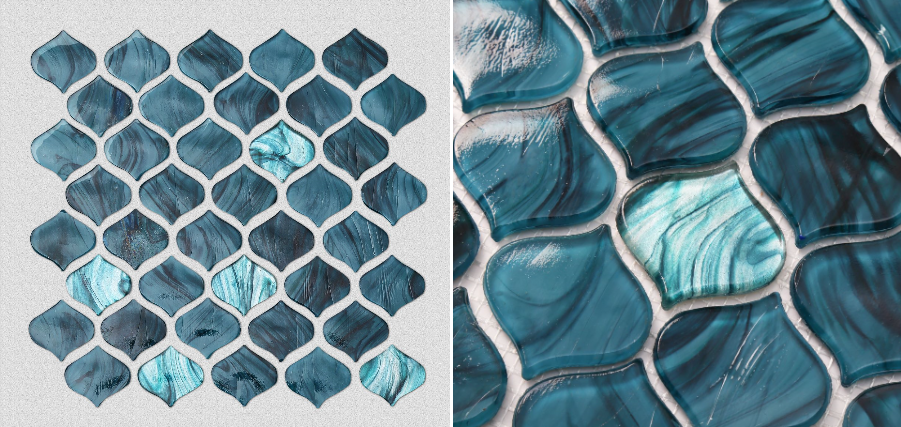 This is the effect picture of this glass mosaic applied to the shower room.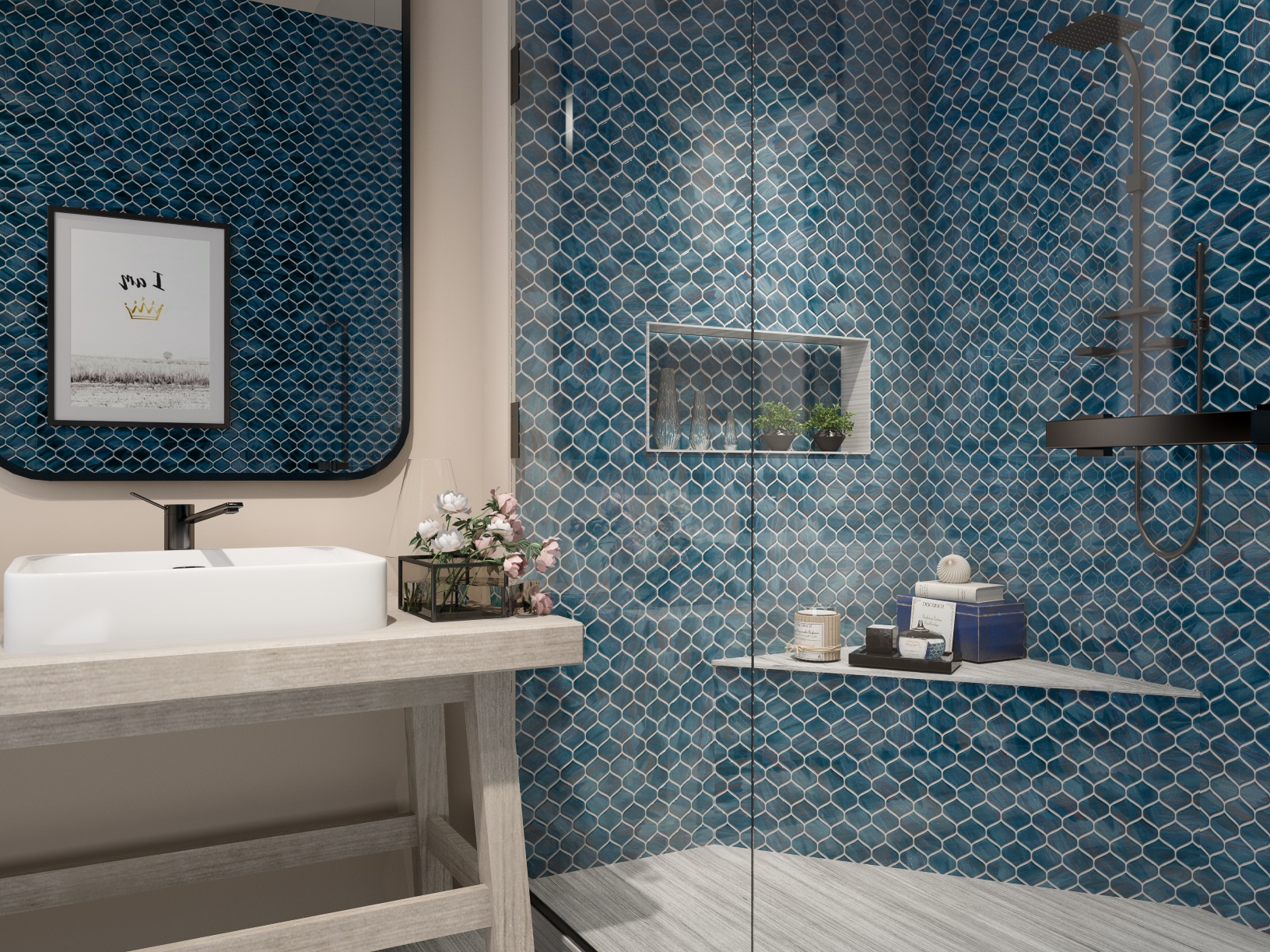 Accordingly, glass Mosaic is not only practical strong, and also can have the effect that decorates the house such as the bathroom.If you like, please contact us for more details.The arabesque shape glass mosaics in addition to this malachite green color, there are also imitation white stone colors, off-white, black gold, blue gold, etc. Besides, you can also look at other different styles of the store.
Our products have quality assurance, thank you for choosing our products!
About our company:
Gong Loon Industries Limited was established in 1986 . We are manufacturing the quality glass products, e.g. glass mosaic tiles and container of glass for different pattern of industries. Headquartered in Hong Kong, with factory in Jiengmen, China. Our factory plants around 36000 sq. meters and around 400 employees. In 1998, we launched the private brand: HK Pearl to entry the oversea markets, up to now, We have been shipping glass products worldwide for 20 years to over 70 countries, especially in U.S.A, Europe and Asia Pacific. As a manufacturer of glass products in the world. High quality, competitive price and after sales services are essential elements.
Similar Video Recommendation
Bossgoovideo.com Contact Now
If you are interested in the product, contact Bossgoovideo.com for more information
*To:

Gong Loon Jadeite Manufacture Co.,Ltd
*Message:
Submit
 Disclaimer :
The information of Bossgoovideo.com limited shown above is provided by the user or collected on the network. Video 2B does not guarantee the authenticity,accuracy and legitimacy of Bossgoovideo.com limited information. Video 2B does not involve legal relationships and disputes between users arising from transactions other than secured transactions on this website. Disputes shall be settled by you through negotiation. If you are the person in charge or relevant employee of this enterprise, if you find that the enterprise information is incorrect or want to manage thiscompany, please contact us jacklee1558@gmail.com, after you claim the enterprise, you can obtain management permission, publish supplyand demand information, bring consulting orders, and remove page advertisements.